When it comes to decision making, I don't tend to hum and haw over things. Once I know something, I know it. I feel pretty confident in my decisions once I've made them. Sometimes I search forever, and sometimes I get it on the first shot... but once I have it figured out, it's generally set in stone.
For example, with
our venue search
, I looked at many possible options, but
once we decided on our property
, the decision was final and there was absolutely no looking back.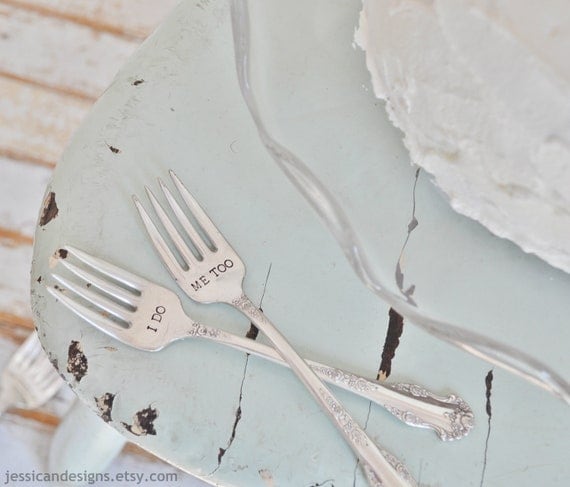 some decisions are like forks in the road // Etsy shop jessicaNdesigns
Mr. Narwhal and I tend to share a brain on a lot of things, and trust each others opinions. We each have our things that we are good at and have an eye for, and when we come to each other with an idea or anything wedding related, we generally have the "Sure, sounds good" approach to things.
We have also tried to involve our parents in our wedding planning journey as much as possible. We recognize that this day is just as important to them too! Not only are they contributing a large amount to the budget (thank-you we love you!!), we want their involvement in the process.
The decision-making lies with us, but some things, I have decided to hand over and stay informed on. There are things I care about
a lot
when it comes to planning (namely photography, decor and the ceremony), and some things that I know our parents will just do a better job with.
Mr. Narwhal's mom is an excellent baker, and in charge of the cookie bar. I have given her free reign on making whatever cookies she wants, as long as she includes some gluten-free (I'm gluten-free) ones in the mix. My mom owns a restaurant and food is her jam, so she can contribute largely to the menu* and ordering food (more on our caterer soon). My dad helped out by clearing the land and will help with landscaping. Mr. Narwhal's stepdad is a master with carpentry, so he'll be making a few things for the wedding as well.
With our vendors we have been quite fortunate, a bit searching here and there, and bam... decision made. I don't take my time. Once I know, I know. Kind of like with Mr. Narwhal.
Over the next few posts I'll introduce our top vendors, and why they made the decision-making so easy!
How do you approach decisions when it comes to wedding planning?
*A note to Momma Narwhal: You were right. You know what I'm talking about :D